Matt Sugam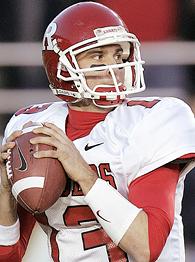 Former Rutgers quarterback Ryan Hart had a federal court reverse the dismissal of his lawsuit claiming his image in EA Sports' video game "NCAA Football" was used without his permission.
The ruling was by the 3rd Circuit Court of Appeals, and while they found that EA Sports may be protected under the First Amendment as a work of free expression, the virtual Hart depicts the real-life Harts accomplishments on the field.
"The digital Ryan Hart does what the actual Ryan Hart did while at Rutgers: He plays college football, in digital recreations of college football stadiums, filled with all the trappings of a college football game,"  Judge Joseph Greenaway siad. "This is not transformative; the various digitized sights and sounds in the video game do not alter or transform the appellant's identity in a significant way."
And so, with a 2-1 vote, Hart is able to pursue his allegations against EA Sports.
Hart – who played for Rutgers from 2002-05 – filed a suit in 2009, claiming his image was used in the video game without his permission.
However, in September 2011, U.S. District Judge Freda Wolfson in Trenton ruled that Hart's right over how his likeness was used was outweighed by the First Amendment, and EA's right to free expression under it.
The attorney appealing for Hart said their clients actual skills, appearance, physical features, statistics and biological information was used to make the game more sellable to consumers. They argue that EA basically steals the identities of players without their permission in order to make a profit.
The case will now be sent back District Court in Trenton.
---
---
---
---