By Matt Sugam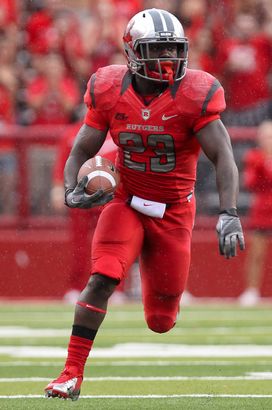 As Jawan Jamison was mulling over the decision of whether or not come back to Rutgers, the redshirt sophomore's choice got a lot easier when he received a third round draft grade from the NFL Draft Advisory Board.
"The grade I got back was a very good grade," Jamison said. "And I thought it was the best situation for me and my family given that at this point in time I feel like I'm ready to go to the NFL."
While the 5-foot-8, 200 pound running back believes he's prepared for the next level, he didn't think he'd be projected this high after becoming just the third 1,000 yard rusher at Rutgers since 1976.
"I was actually surprised because I thought it was going to be a little lower than that," Jamison said. "But when I got it I was really excited and my family was really excited and I feel like we made the best decision and that's why I decided to declare."
However, when Jamison begins training for a potential invite to the NFL Combine and Rutgers' Pro Day, the Starke, FL native will be doing so with a tender right ankle. After spraining it against Army, Jamison said he was finally back to 100 percent heading into the bowl game, before re-aggravating the injury against Virginia Tech.
"It's still a little sore, but I'm just working on it to get it strengthened and that's what I'm going to work on when I go to training," Jamison said. "And that's one of the specific things that I'm going to work on to get it back stronger and once it gets stronger I feel like I'll do really well."
Despite a late-season ankle injury for the second consecutive year, Jamison said it had nothing to do with his decision to forgo his final two years of eligibility.
As for what he brings to an NFL team, Jamison feels like he brings it all.
"I just feel like I can do everything that my team needs me to do. Whatever my coaches need me to do," Jamison said. "I can catch out the backfield, I can run between the tackles, I can run outside, and I can pass block. I can do it all."
---
---
---
---