By Matt Sugam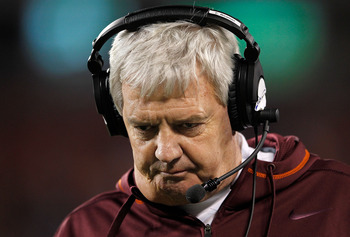 While it was over 20 years ago, Bryan Fortay's 15-yard touchdown pass to Chris Brantley as time expired is etched in Frank Beamer's memory. The play capped off the 50-49 win for Rutgers over Virginia Tech on Halloween in 1992.
"I've been trying to forget that one," Beamer said on the Russell Athletic Bowl – where Rutgers plays Virgina Tech – announcement conference call. "I've spent all these years trying to forget that one."
It's a win Rutgers fans haven't. It's the last win Rutgers – who is just 11-3 all-time against Virginia Tech had against their former Big East foe before the Hokies left for the ACC in 2004.
While it's been two decades and a streak of 20 consecutive bowl games for Virginia Tech starting the following season, the 25-year head coach hasn't let his last loss to Rutgers go.
"I remember it pretty well," Beamer said. "We didn't do much on the defensive side in that ball game and they kept scoring on us and we didn't get much of a pass rush and they hit us for a touchdown. I've been spending a lot of time trying to forget that one."
---
---
---
---