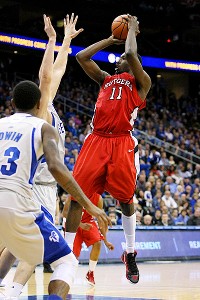 By Matt Sugam
PISCATAWAY – The Garden State's best college basketball rivalry doesn't feature two teams fighting for supremacy in the Big East. It seldom does.
The last time Rutgers and Seton Hall faced off with both teams having a legitimate shot at the NCAA Tournament was back in 2004.
Round one of the 2013 edition features two teams desperate for a win as they try to get their season back on track. The Scarlet Knights are currently on a six-game skid while the visiting Pirates are on a five-game skid, coincidently with both team's last win coming against USF.
"It's going to be a dogfight then. Both teams are struggling right now…It's going to be crazy in here tomorrow," junior wing Mike Poole said. "Both teams don't like each other and are going to come in here trying to get off the losing streak. They're probably thinking the same thing we are thinking. Team is struggling, why not them? And we're thinking the same thing. Why not them? To get our confidence rising and stuff, we need this win tomorrow."
However, playing this game on losing streaks is nothing new. While this is the longest combined losing streak when the two teams face off, just last year Seton Hall ended a six-game skid at the RAC. Rutgers returned the favor a couple of weeks later, ending a six-game losing streak at the Prudential Center.
"It's definitely an interesting pattern that's taking place between two rivals," head coach Mike Rice said. "And boy I hope to stop that tomorrow night."
But streaks – or wins and losses in general – don't matter when it comes to Rutgers-Seton Hall. Records don't matter when it comes to the Turnpike tussle.
The pair of hotly contested games become a season within itself.
"For these Seton Hall-Rutgers games the records get completely thrown out the window," senior forward Austin Johnson said. "And the games are really high intense and physical and some altercation usually happens."
The ones in recent memory involved Seton Hall's Herb Pope.
Last season Pope head butted Rutgers guard Eli Carter followed by Carter pushing Pope to the floor. The year before that Pope took out Rutgers wing Dane Miller on a hard foul on a meaningless end of game dunk.
"A lot of that I used to attribute to Herb Pope," Johnson quipped. "Herb Pope was good at that type of stuff."
And while Pope has graduated, this game should be no different. Not with two rivals both desperate to get off the schneid.
The upside for Rutgers is that they're facing a bruised and battered team, they could have as little as nine players suited up.
But don't tell that to the Scarlet Knights. The last thing they see that as is blood in the water.
"After you lose six games in a row you don't worry about taking anybody lightly. Mickey Mouse or anyone else who comes in here and plays," Rice said. "Seton Hall is a really good basketball team."
And a team that sees this as a must-win game. Much like Rutgers.
"We gotta win. That's it," Poole said. "It's rivalry week. It's our rival. They don't like us, we don't like them. We got to win. It's very important to win this game to get out of this slump and beat our rival. It would be the perfect win to get out of this losing streak by beating them."
---
---
---
---